SECP Jobs: The Securities and Exchange Commission of Pakistan issued a job announcement. This SECP job advertisement was obtained from the Daily Jang Newspaper.
SECP is now looking for results-driven, qualified, highly motivated, and experienced employees. Candidates who meet the qualifications can apply for the following positions: Assistant Director, Adjudication Division Candidates must apply for these positions by March 9, 2024.
Details About SECP Jobs
About Securities and Exchange Commission of Pakistan
The Securities and Exchange Commission of Pakistan (SECP) is Pakistan's financial regulating body. It was founded in 1999 with the goal of creating a modern and efficient business sector as well as a capital market based on strong regulatory standards. The SECP's objective is to safeguard investors, promote market integrity, and ensure the capital market's orderly development.
Check Also: Punjab Rangers Jobs 2024 – Apply Now
Vacation Positions:
Assistant Director, Adjudication Division
Eligibility Criteria:
Gender Required:
Both Females & Males are eligible.
Skills Required:
Management, Administration
Age limit:
Minimum age: 35 Years
Maximum age: 45 Years
Education Required:
Masters
Experience Required:
Minimum: 02 Years
Maximum: 03 Years
Benefits of SECP Jobs
Regulatory Experience: Working at SECP provides hands-on experience in securities regulation, compliance, and enforcement. This experience is extremely beneficial for those interested in learning about the regulatory environment and its impact on financial markets.
Professional Development: SECP offers chances for professional development through training, workshops, seminars, and exposure to the most recent advancements in the finance and securities industries. Employees can broaden their knowledge and improve their abilities.
Contribution to Financial Stability: SECP employees play a critical role in safeguarding the financial market's stability and integrity. They seek to provide a fair and transparent environment for investors, contributing to the country's overall economic growth and stability.
Opportunities for Networking: Working at SECP provides individuals with the opportunity to network with professionals in the financial and regulatory industries. Developing a strong professional network can lead to future job chances in the finance industry.
Career Advancement: SECP provides opportunities for career promotion within the firm, allowing employees to ascend to higher positions with increasing responsibilities and better pay.
Policy and Regulatory Impact: Employees have the opportunity to actively influence securities market policy and regulation. Their work helps to shape regulations that govern market players' behavior and protect investors' interests.
Work Security: Government agencies such as SECP frequently provide work security and stability, giving employees a sense of employment security and financial stability.
Competitive Compensation and Benefits: To attract and retain personnel, SECP normally provides competitive compensation and benefits packages. Health insurance, retirement programs, paid time off, and other benefits may be available.
Opportunity to Serve the Public Interest: Working at SECP allows individuals to contribute to the public interest by ensuring the market runs fairly, transparently, and in the best interests of investors.
Learning and Exposure: SECP provides a dynamic work environment in which employees are exposed to diverse areas of financial markets, securities legislation, corporate governance, and investor protection. This experience broadens their knowledge of the financial sector.
Collaborative Work Environment: SECP supports a collaborative and supportive work culture among its workers, fostering teamwork and knowledge exchange.
Salary Package:
Minimum Monthly Salary: 80,000 PKR (EST)
Maximum Monthly Salary: 100,000 PKR (EST)
How to Apply for SECP Jobs
Candidates who meet the eligibility requirements should apply online at https://recruitment.secp.gov.pk.
Original documents should be brought to the job interview.
Only those who are eligible and have been shortlisted will be contacted for an interview.
There will be no TA/DA for the interview.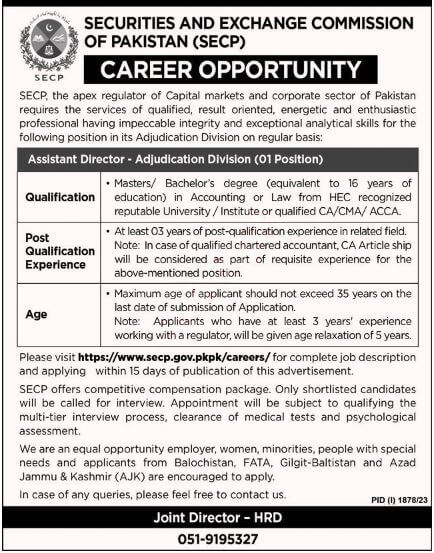 People Also Ask:
What is the scope of the SECP?

The SECP's current mission includes the following: Corporate sector and capital market regulations. Insurance companies are under supervision and regulation. Non-banking financial institutions and individual pension systems are vulnerable to supervision and regulation.

How do I apply for SECP?

1. Enter your username and password to access the eServices Portal.
2. For same-day processing, submit your application by 1200 hours.
3. Fill out the online form with all of your details.

What is the qualification of a company secretary in Pakistan?

A person who holds a master's degree in business administration or commerce or a law degree from an institution of higher learning recognized by the Higher Education Commission of Pakistan, or who holds a comparable certificate from the Higher Education Commission of Pakistan is eligible for SECP.